I was in Amsterdam last week for APIdays, or if you're a fan of the Fonz, 'Appydays.
The headline topic was the rise of contextual communications. The two-day event saw attendees from around the world come together to discuss how APIs can enable businesses to radically change how they interact with customers and optimize CX.
There was a lot of chatter around speech analytics (it's good to see the industry catching up with the conversations we were having 2 years ago!) and a focus on the evolution of CPaaS, which has become more of an unbundled solution that enables customers to integrate multiple services into their platform of choice for a more refined approach – it's something we've been talking about with the idea of Bringing Your Own Carrier to your CPaaS.
To that end, it was great to hear APAC cloud communications provider and Voxbone customer Toku World highlighting how CPaaS solutions are still dependant on communications-as-a-service (CaaS) providers like us for their underlying voice and messaging capabilities.
One of the biggest talking points at the event was an acknowledgment of the increasing concerns around reliability and compliance, especially in light of GDPR and the huge lawsuits we've seen recently against big tech in Europe as regulators step up their game.
We've been talking about the importance of compliance since 2005 and I'm glad to see it finally becoming a topic that is more relatable and one that is finally being given the time it deserves. There's a growing consensus that what businesses need today is a reliable, global communications service provider that helps them ensure they are compliant everywhere, now and forevermore.
And that's as nice a segue as I can think of into the talk I gave at APIdays on Programmable Compliance and Voxbone's approach to Compliance by Design. Read on to learn what I actually mean by making compliance programmable and some tips on how to give your business compliance a kick up the CaaS using APIs.
Why Should You Care About Compliance? Carrot vs Stick
Compliance in cloud communications is all about preventing misuse and abuse of these channels. Fail to stay fully compliant and you're looking at:
Service downtime if your voice or SMS services are blocked or disconnected
Lost revenues if your prospects and customers can't reach you
Negative customer experience (CX) leading to greater risk of churn
Poor brand perception among prospects trying to reach you
Increased marketing costs from updating collateral with replacement phone numbers
Hefty fines from regulators running into six figures
That's the Stick of Non-Compliance. Here's the Carrot of Ensuring Compliance for the glass-half-full among you:
Improved reachability for your business among prospects and customers
Better brand perception due to the long-term availability and stability of your communications channels
Marketing opportunities around the reliability of your brand
Higher CSAT scores
Better privacy and data security through secure, compliant communications with customers
Money saved on legal and marketing costs
So, it's safe to say it's in your interest to ensure compliance and the talk at APIdays showed that the business world is more aware of this than ever before. On a personal note, it's reassuring for us at Voxbone that the industry is putting more emphasis on compliance – it feels like a validation after years of shouting into the void!
But not every cloud communications provider feels the same. Here's a scary stat… The industry average coverage churn among cloud communication providers is 30% a year. Meaning most providers will lose 30% of their coverage in a given year due to non-compliance. Sure they'll probably get it back, but by then, the damage to your business might already be done.
So how can APIs help you ensure your communications are compliant?
Programmable Compliance – Staying 100% Compliant
With APIs, you can streamline management of your cloud communications through the automation of key functions for greater operational efficiency. By working with a provider that has APIs for compliance, you can automate a number of functions that would otherwise require a large manual overhead including:
Submission of required information to regulators;
Understanding any local service restrictions on use cases around phone numbers
Number porting
Local access to emergency services
Verify end user details
Once you've integrated these APIs, they will ensure you remain 100% compliant in the future – and that's the only real way to guarantee long-term stability and availability of your voice and messaging services in every market.
The bottom line is that, by automating compliance, you can get back to what you do best – your business – and rest easy knowing that you can rely on swift, stable communications with your customers, prospects and colleagues when you need them.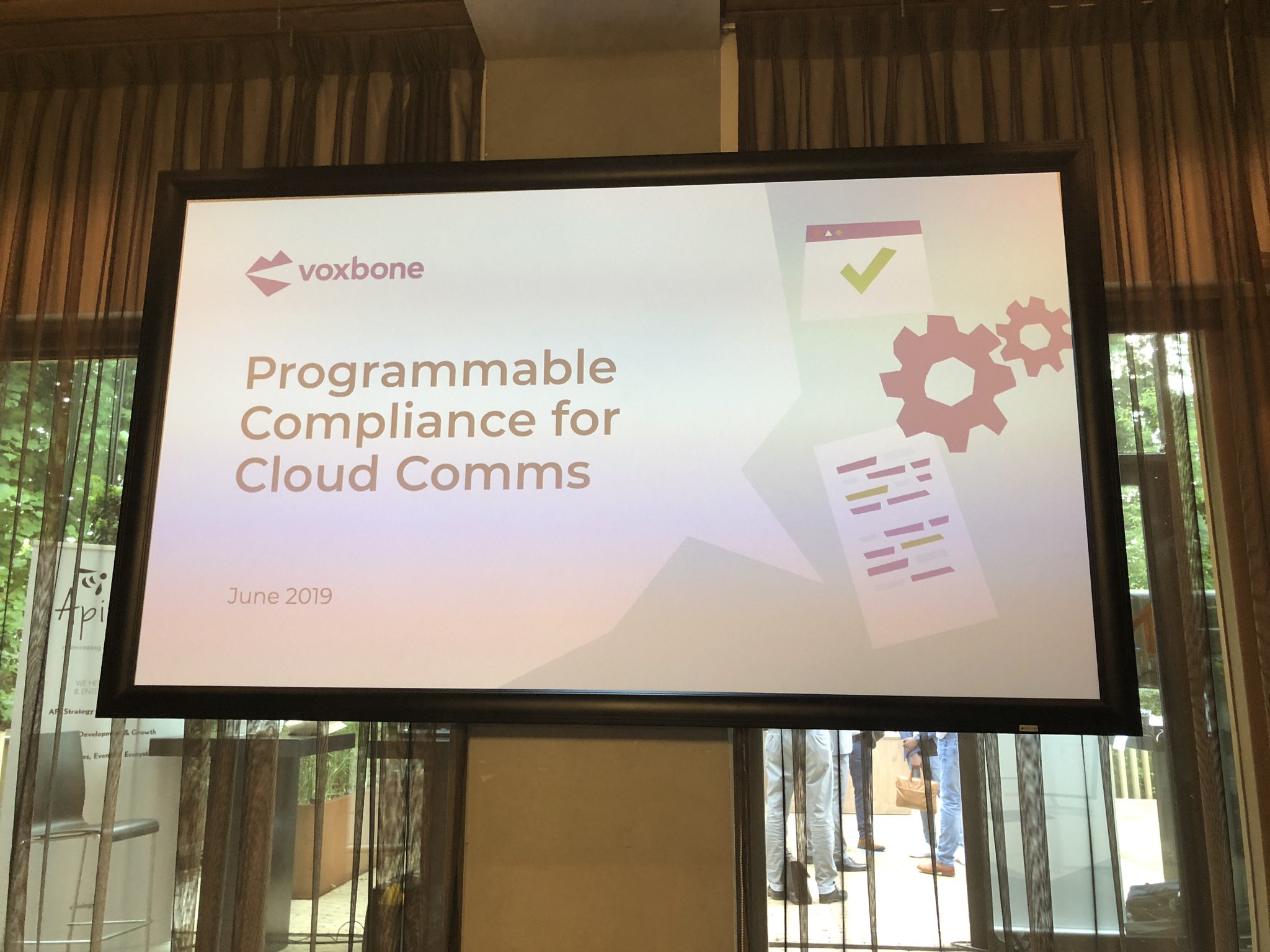 Compliance by Design
Most providers aren't at the point of offering APIs for compliance. But that's because they've always looked at compliance as a Stick – something to begrudgingly do for fear of the negative consequences.
Because of our uniquely optimistic outlook, we've always gone above and beyond to ensure our services are 100% compliant and our customers have the tools they need to stay that way. Compliance is stitched into our very DNA. We call this approach Compliance by Design.
Because we've accumulated so much regulatory expertise over the years and built the tools and APIs to streamline compliance from scratch, we're effectively at the point where we can offer Compliance as a Service to our customers.
How did we get here? By:
Building strong relationships with regulators and authorities
Developing local expertise in legal requirements for every market
Committing to never compromise on compliance, even one case for misuse can cost you six-figures
Taking proactive steps to ensure your business is prepared for any regulatory changes
Improving collection and validation processes based on common submission identified by regulators
Integrating our platform with local regulatory platforms
Ensuring that requirements are easy to grasp and process for machines and humans alike!
Incorporating privacy by design to ensure sensitive data is secured and we're compliant with GDPR
Don't let non-compliant operators get between you and your customers. We're fully licensed in 65+ countries, covering 92% of world GDP.
Get in touch to learn more about compliant comms you can count on
Or dive into our API documentation if you're not afraid to get your hands dirty